Fork this template on Google Docs
As your company gets larger and more complex, it's easy to become embroiled in supporting incoming asks from other teams. That's important work, but it's also important that your team is operating effectively and prioritizing your goals in addition to the goals of other teams making requests.
If you're getting mixed signals on whether your team is doing the right work, the Business Review Template can help cut through the confusion. This written document facilitates an operational review of your team, and even more importantly creates an opportunity for you, your team, and your stakeholders to discuss if you're focused on the right work.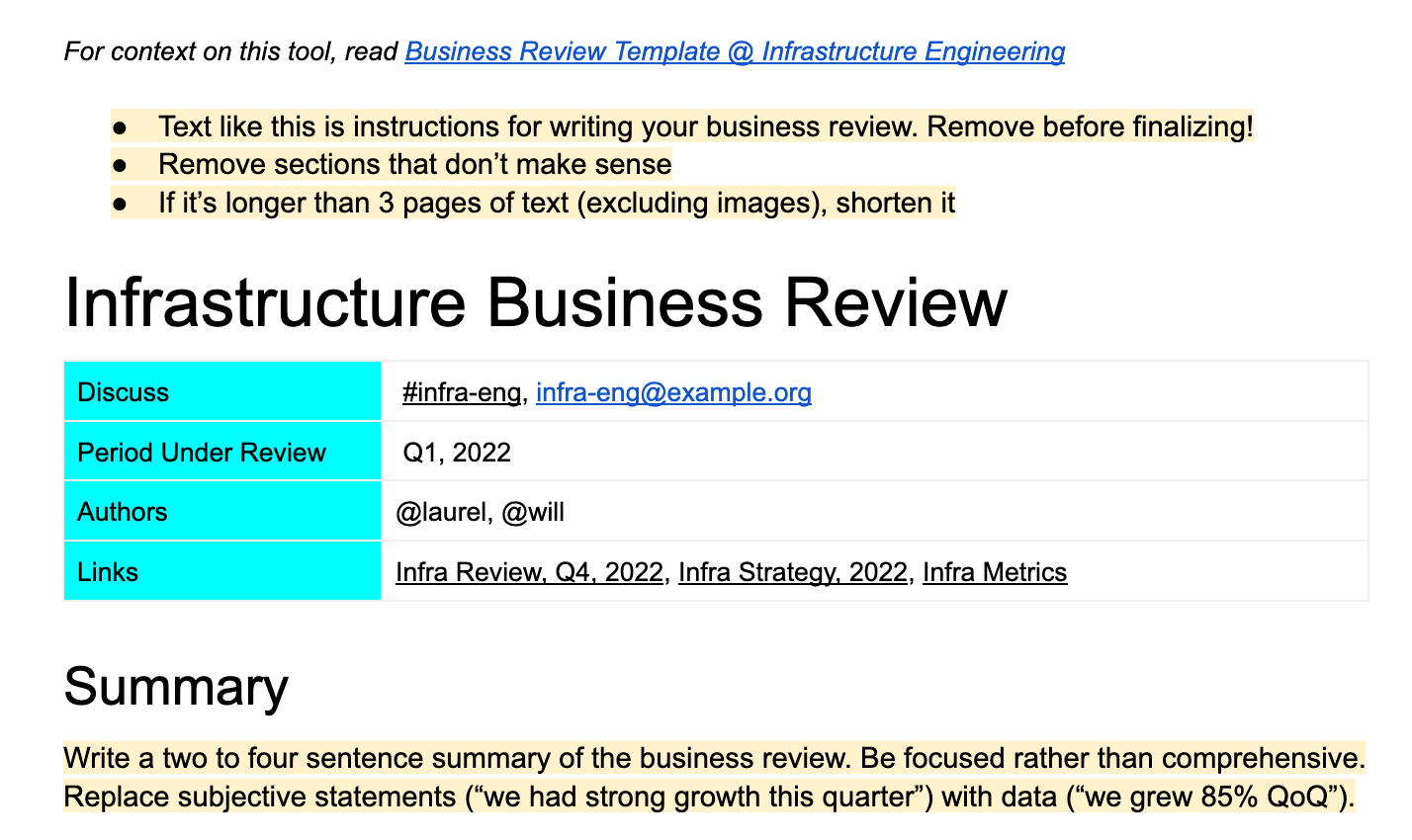 Example using the Business Review Template
Most companies wind up using a variation of this template by the time they reach a thousand employees, with some starting much earlier. Even if there's no structure business review process, it's helpful to start writing them periodically for the area you're responsible for: think of them as your area's performance review.
Related Meetings
Other Approaches to Business Reviews
How to Use
Find examples of previous business reviews at your company, and if possible ask the authors what was and wasn't well received in their most recent review
Fill in the template for your team's area
Iterate on your draft with feedback from your team and manager
Identify the key groups you want feedback from, and create copies for each of those groups. Transparency is important, but transparency too early often mutes the direct feedback that helps you succeed. Give these groups a week or so to provide feedback, including running a Business Review Meeting if that's something your company finds valuable
Widely publish a clean, readable copy into wherever business reviews are collected, and let anyone who hasn't gotten a change to see it so far know where to find it and how to share feedback on it
Now you're done! (At least until the next one.)
Tips
Writing an effective business review depends first and foremost on understanding the audience you're writing for, and what that audience cares about. If you're not sure about the answer to either of those, ask!
Many companies and many teams try to use their business review to solve too many different problems. Your business review should focus on answering only two questions: how well is your area of the business operating? What do you need to do for it to operate better?
Good business reviews are focused on what the reviewers need from the review. Bad business reviews are comprehensive, capturing everything that someone on the team wants reviwers to know
Every metric you include in a business review should be a well-formed metric that includes the current value, the goal, and the trend over time
Avoid delegating the writing of your business review to multiple different folks. Short documents with disjoint authors are hard reads
The Amazon Way of Writing is a helpful set of rules for writing these sorts of documents